You get the summer wedding invitation in the mail, and you're excited for the upcoming nuptial celebration! The first thing you ask yourself – "What am I going to WEAR!?" Thankfully, Rent the Runway (affiliate link) has surfaced, offering designer dresses to be rented for a fraction of the price. The perfect setup for someone who doesn't want to wear the same dress over & over again, or wear an expensive dress once & have it hanging in the closet.  We asked some of our favorite wedding vendors, and they came up with their favorite picks, helping you decide what to wear to a summer wedding!
*This post contains affiliate links, which means that if you click on one of the product links & purchase, I may receive a small compensation. Read more about our Disclosure Policy here.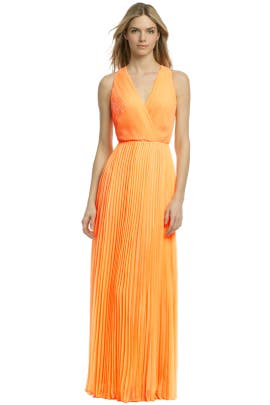 Halston Heritage Crave You Maxi – $112.00
from: Rent The Runway

Marchesa Notte Lupita Dress – $90.00
from: Rent The Runway

Rachel Roy Piece It Together Dress – $66.00
from: Rent The Runway

Clover Canyon Floral Line Dress – $99.00
from: Rent The Runway

Trina Turk Sonoma Lace Laurel Dress – $40.00
from: Rent The Runway

Yumi Kim Pastel Paradise Maxi – $85.00
from: Rent The Runway

Halston Heritage Forest Flute Gown – $174.00
from: Rent The Runway
Here's how it works – visit Rent the Runway as early as possible to reserve your favorite style. You can see the dress on real people, as well as their feedback on how the dress fit them.  When you place your order, you choose the size that you think will be the best fit, and add a backup size for free. For an additional fee, you can add a 2nd style dress to be shipped to you as well.  You keep the dress for either 4 or 8 days, depending on your reservation, and then you ship it back, where RTR takes care of the dry cleaning.  An alternative to this, is to make an appointment to visit the Rent the Runway Store in Georgetown, where a personal stylist will help fit you into your favorite styles.
Hopefully these selections give you some options of what to wear to a summer wedding, or festive affair!   See our other post on What to Wear to a Spring Wedding!